Garages are often ignored when renovating homes because they aren't a "living space."
However, it's the first thing your guests notice when they visit you. And let's be honest, would a garage with malfunctioning or broken doors make a good impression on your visitors? Certainly not!
Of late, contemporary garage doors have been the talk of the town and why not? Contemporary garage doors elevate the exteriors of your home to a great extent, thanks to their unique designs and ultra-clean lines.
Textured planks, ultra-sleek sterling, industrial full-view aluminum or minimalist skyline flush– you're spoilt for choices when it comes to contemporary garage doors. But how much do contemporary garage doors cost? This guide will help answer this question for your benefit.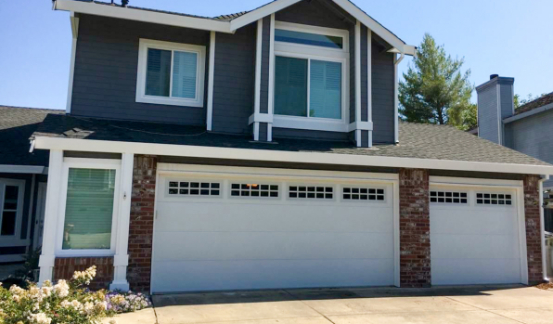 How Much Do Contemporary Garage Doors Cost
Contemporary garage doors come in various price ranges and can cost anything between $900 and $4,500 (CAD 1,100 – CAD 5,800). Of course, the price may exceed or decrease depending on the material you choose.
What makes contemporary garage doors one-of-a-kind is that you can customize them according to the exteriors. Understandably, customized doors will cost more than off-the-rack ones, including doors made of exotic wood or additional embellishments.
In most cases, contemporary garage door installation costs range between $220 and $400 (CAD 285 – CAD 515).
Factors That Determine The Cost Of Contemporary Garage Doors
1. Size
The door size plays a crucial role in determining the amount you'll have to pay to get it home. You'll obviously have to pay more for a three-car garage door than a one-car unit. That's because it is of considerable size and has been constructed using more materials than the latter.
2. Material
Contemporary garage doors are made of aluminum, glass, steel and wood. While aluminum and glass doors add a stylish touch, they come with an expensive price tag.
Steel doors are easy on the pockets, but you'll have to spend a few bucks more if you customize them by adding windows, thicker steel or insulation. Compared to steel doors, wooden doors are costlier and the price will go up if you opt for premium-quality wood.
3. Architectural Elements
While a standard off-the-rack door wouldn't cost much, a door full of architectural elements will certainly cost hundreds or even thousands of dollars. That's because a custom door comes with embellishments which adds to the labour cost.
Wrapping It Up
Garage doors can make or break the exterior design of your home, which is why you must keep them in harmony with the rest of the outdoor decor.
For every modern home having a garage, upgrading to a contemporary garage door is the best way to add a style statement and make your space inviting. And the best part is that they are supplied in unlimited powder coatings, so finding one that complements your exteriors won't be a problem.
Irrespective of whichever material you choose, opting for professional installation will be wise. That's because even the slightest mistake in the DIY installation can cost you a lot of money. 
Ready to upgrade to a contemporary garage door? Schedule an appointment with the best garage door company today!